Our Community Bank® Branch welcomes Maddy
28 August 2019
|
Community news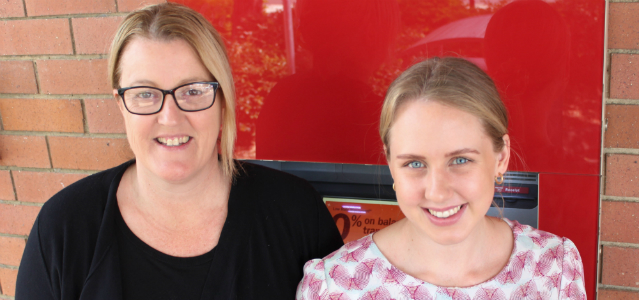 Pictured: Simone, Branch Manager of Cooroy with new starter Maddy
Maddy's life is a busy one, but she wouldn't swap it for quids!
The new face at the Cooroy Community Bank® Branch is a young mum of a two-year old boy, so there's never a dull moment in her household. Maddy is a local through and through, having grown up in the Yandina and Eumundi areas and just loves her new role in the hinterland.
"My grandparents owned one of the largest ginger farms on the coast in Ninderry. They helped start the Ginger Factory once it was moved to its current location," Maddy shared.
"I went to school in Nambour, will be marrying my high-school sweetheart later this year and I'm already loving being part of something special at the Cooroy Community Bank® Branch," she added.
In her previous role, Maddy worked as a travel consultant but wanted a change and to work closer with her local community.
"I've always had a passion for meeting the needs of others, so I'm happy now doing that by assisting others with their banking requirements. It's a challenge I love," Maddy said.
"I feel extremely lucky to be a part of the Cooroy Community Bank® Branch and working with the team. Simone, Debbie, Jo, Sheridan, Meredith, Amanda, Cindy, Ella and Karl have been really welcoming and I've really enjoying getting to know our customers. It's also been great seeing difference Bendigo Bank makes in the hinterland through all our community sponsorships and involvement," she added.
Cooroy Community Bank® Branch manager, Simone said Maddy has been a wonderful addition to the team.
"Maddy brings with her a great understanding of our community and we're excited to add another dynamic team member to our branch. She's enjoying learning more about our Community Bank® model - the more our community supports us the more we can give back. It's that simple," Simone said.
If you haven't seen the difference Community Banking can make, call in and say hi to Maddy and the rest of the team at the Cooroy Community Bank® Branch and have a chat about your banking needs.
It's located at 36 Maple Street and is open 9.00am to 5.00pm Monday to Friday. You can also call the branch directly on 5447 7131.