Christmas celebration plans well underway at NSCC
30 October 2019
|
Community news
Christmas may seem a little way off yet, but planning for a great community event starts months ahead.
The North Shore Community Centre has become synonymous with a Christmas celebration that has locals circling their calendars months in advance. This year, North Shore Community Centre Christmas Celebration will take place on Saturday 30 November.
The committee met this week to firm up the program and rain, hail or shine, the event will also mark Social Inclusion Week 2019, bringing the community a wonderful free day out for North Shore families and residents. The aim is to bring our community together at low cost in celebration of Christmas as well as community, encouraging all to be involved, inspired and connected.
With many of our local community groups holding info stalls on the day as well as a local arts and crafts market for some Christmas shopping, there is something for all ages. Proudly sponsored by the Marcoola Community Bank Branch of Bendigo Bank and Sunshine Coast Council and many local partnerships and businesses, the event will kick off at 10am and finish at 2pm.
Santa will drop in for a visit via helicopter. A live band will be performing and there will be a host of free activities for the kids including laser tag, a petting zoo, jumping castle, face painting, a wildlife show and of course, the DIY arts and crafts. If the kids have been good enough, Santa may even leave each of them a lolly bag.
The North Shore Community Centre is keen to welcome any community groups wanting to be a part of this annual event by holding a stall or hosting an activity. This day is all about giving back to the community and encouraging our local residents and groups to come together and see what opportunities are available to be more involved, inspired and connected.
For locals who have a talent for making or collecting arts, crafts and other goods that might make great Christmas presents, spots are still available to hold a stall in the Christmas gifts market on the day. It's just $5.00 for a 2m x 2m stall.
Want to find out more?
Contact the North Shore Community Centre.
Phone: 5450 9700
Email: info@northshorecommunitycentre.org
Visit the NSCC website or Facebook page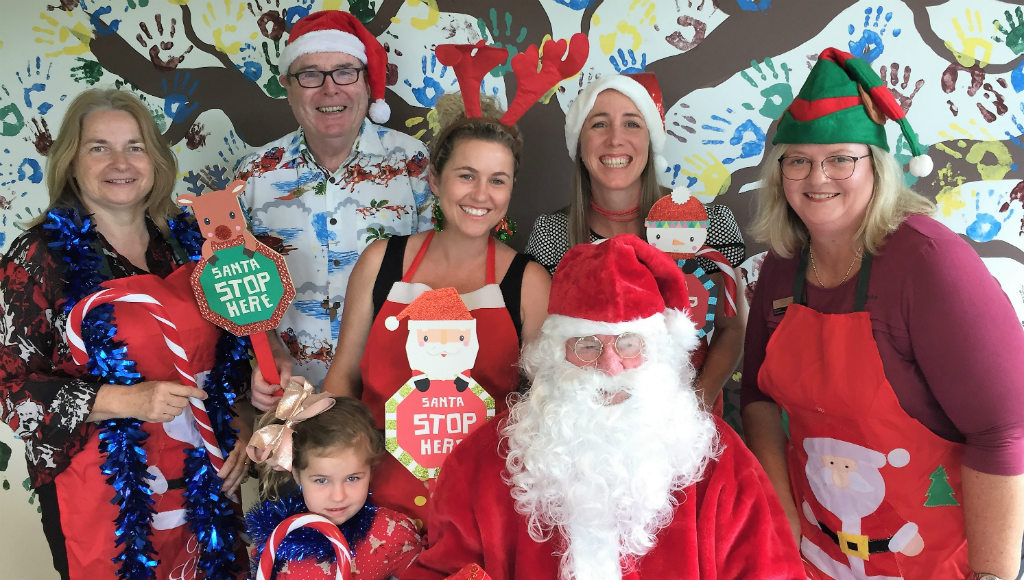 A committee hard at work. (l-r) Doris, Richard, Alice, Suzi, Shannon, Kerryn and a very excited Santa Claus getting ready for the 2019 North Shore Community Christmas Celebration on Saturday 30 November.