Community Bank rewards successful students
5 June 2020
|
Community news
Four local students have won the inaugural scholarships given by the Mirboo North & District Community Bank.
The awards, valued at $6000 over two years, have been given to students who demonstrated a strong commitment to their studies and future career, as well as to community. All had shown leadership in a range of school and community positions and have the potential to make a wonderful contribution to community and society in years to come.
The successful recipients are: Lana Williamson of Mirboo North, who is embarking on a double degree in Forensic Science and Criminology at Deakin University; Roxanne Hibberson of Thorpdale, who is starting a Bachelor of Educational Studies at Federation University, Churchill; Ally McGown from Budgeree, who has earned a place at Monash Clayton to study a Bachelor of Science; and Lydia Reiske of Boolarra, who will commence a Bachelor of Biomedicine (Medical) at Latrobe University Bendigo.
The Chair of the Community Bank, Warren Warner, said, "we congratulate these four young women and wish them well as they set forth on the next stage of their educational journey. We are very excited to be able to offer this new scholarship program to support the young people from our District. We look forward to hearing from Lana, Roxanne, Ally and Lydia how their first semesters have been at a celebration in July."
If you are or know a young person who is embarking on University in 2021, keep an eye on our Facebook page for announcements of when the next scholarship program is accepting applications.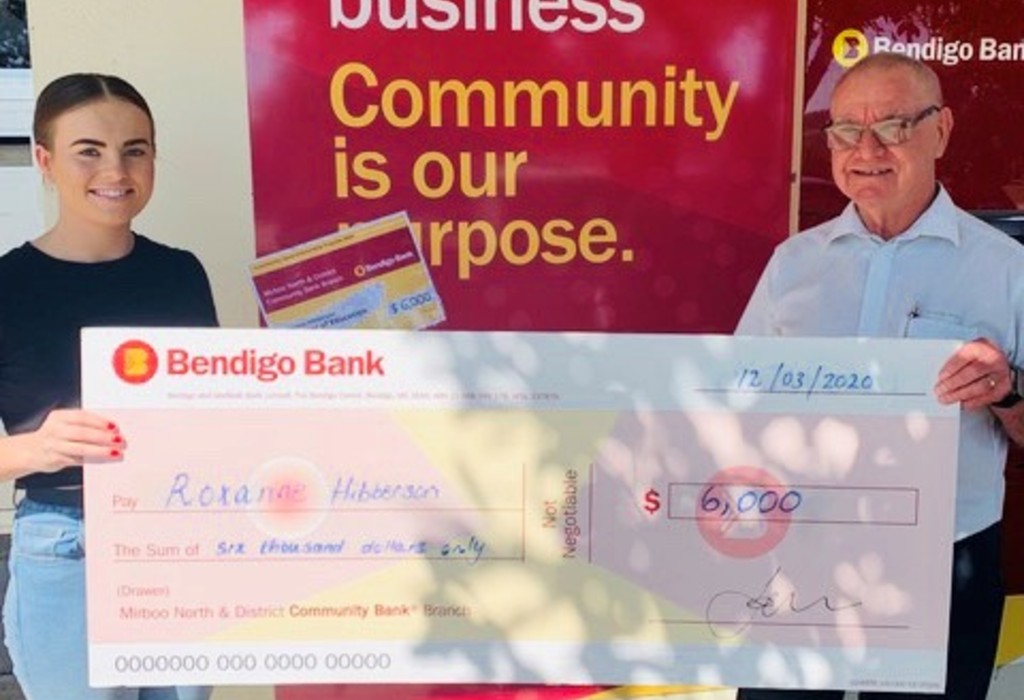 Photo: Scholarship Recipient Roxanne Hibberson and Branch Manager Alan Bannister