Branch Details
Choose from a full range of competitive banking products you expect from a big bank, delivered with the service you expect from our branch.
Address:
3-4/7 Stirling Street Bunbury WA 6230
Operating Hours:
Mon-Fri 09:30-13:00, 14:00-16:00
Branch manager:
Kiara Dawson
We're here to support you
Yes, we're open. But where possible use an ATM, e-banking, or the Bendigo Bank app to do your banking. If you'd like to talk with us make an enquiry or call us on the number above.
Get in touch with Bendigo Bank Bunbury about your banking needs today:
To find out how we can help you, visit our branch or call us to make an appointment.
Personal
Home Loans

Accounts

Credit cards

Personal Loans
Business
Account opening

Finance

Credit cards

Equipment finance
Wealth
Share trading

Superannuation

Managed funds

Retirement
Insurance
Personal

Commercial

Life insurance

Travel
All the latest from around our region

Discover the latest offers and learn how we're giving back to local communities.
A shared commitment.
Sponsorships highlight the fantastic partnerships we have with local clubs, groups, and events. These sponsorships help our partners with vital funding and allow us to spread the good word about our branch.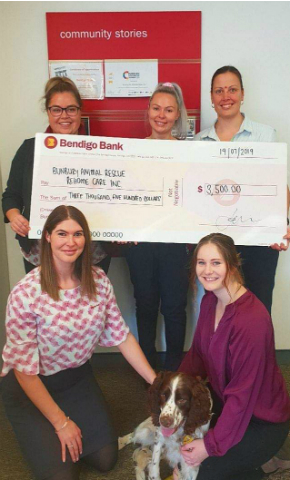 Bunbury branch staff Kelly S, Kiara, Katie and Kelly L pictured with Casey from BARCC with one of the dogs that they have re-homed.
Giving back to our community.
Bunbury Animal Rescue Rehome Care Inc were a recent recipient of $3,500 from our branch. Read more information on this great community group below.
BARRC Mission.
Rescue. Nurture. Rehome. Educate.
Through the education of responsible pet ownership, sterilisation and rehoming endeavours, BARRC aim to create a future where all animals are valued within their community.
They focus on the values of Teamwork, Integrity, Passion, Care, Perseverance and Partnership. Each value leads them toward reaching their goal of reducing the number of displaced pets in the South West.
Who is BARRC?
BARRC is a not for profit Animal Welfare organisation operating in Bunbury, WA.
The organisation operates solely on a voluntary basis and does not have paid employees nor does it receive any government funded grants.
BARRC was established in March 2019 after a small group of individuals discovered a much needed requirement for more animal welfare organisation assistance in the South West of WA. They began as a group of individuals committed to rescuing and rehoming animals.
Although a new organisation, the committee has a combined experience in animal welfare of over 22 years. The committee and management of BARRC is based in Bunbury, rescuing animals throughout the Bunbury region. This local community structure allows us to be flexible to meet the needs of the community and react accordingly.
What the grant means for BARRC!
Since BARRC commenced, they have focused and invested 100% into rescuing and rehoming dogs. This has made it difficult for the group to attract new volunteers and increase their profile within the community.
BARRC are now ready to engage with the community and attend events, however don't have any marketing items to identify themselves.
This grant given by Bunbury branch of Bendigo Bank and Community Sector Banking will enable the committee to purchase a range of marketing items to identify their brand and increase their professionalism at events.
BARRC would like to thank Bendigo Bank for supporting the local community!
Our depositors are protected under the Australian Government's Financial Claims Scheme (FCS) which provides protection and quick access to deposits made with a bank, building society or credit union in the unlikely event that one of these institutions fails. Find out more
here
.
The Bendigo and Adelaide Bank Group is committed to promoting a culture of integrity and ethical behaviour, where our decisions, actions and conduct reflect and reinforce our corporate values.
Our
Group Whistleblower Policy
and individual
Community Bank company Whistleblower Policies
define what type of conduct can be reported. All whistleblower reports made under this policy will be treated seriously and we will investigate them carefully.
Get in touch with [CompanyName] about your needs today.