What is Risk vs Return?
Investing can be a great way to grow your money and reach your financial goals. However, it is also important to understand that there is the possibility that you will lose money, or you may not get the return you were hoping for.
All investments carry risk – even investing in cash. Market conditions, inflation, changes to interest rates and economic downturns can all have an impact on your investment.
There are different types of investment risk. One example is market risk – you buy some shares and after a month, the value of those shares reduces by 10%. Another example is inflation risk – that is, your money can buy less goods and services than it could 2 years ago because the cost of goods and services has gone up.
You may be thinking that risk is a bad thing. Quite the opposite. Generally, the higher risk you're prepared to accept, the higher the potential return. Plus, risks can be managed. Below are some simple ways you can manage risks to help you take advantage of the highs and the lows to reach your financial goals.
Time
Time can be your best friend when it comes to managing risk.
When considering an investment, look at the recommended investment timeframe. Generally, the higher the risk, the longer the recommended investment timeframe. Having time on your side, means you don't have to panic when there is a market downturn. You can wait for the market to go up again which they generally do. Look at the graph below. It shows the many events over time that caused significant share market crashes. Over time the market recovered.
Investment performance of $10,000 in different asset classes over the last 20 years (Sept 1998 till Sept 2018*)
If you don't have time on your side, investing in something that is as volatile as the share market, probably isn't the best idea. Investing in less volatile types of investments can be a better option.
Risk tolerance
If the thought of the value of your investment going down in value keeps you up at night, then taking on too much risk may not be a good idea.
It's good to reflect on your goals and what amount of risk you are realistically willing to take on. If you want to achieve high returns but are not willing to take any risk, you need to accept that your earning potential may not be as high.
The below graph shows how different asset classes performed over time. As you can see, some asset classes are more volatile than others but over time, some perform better than others.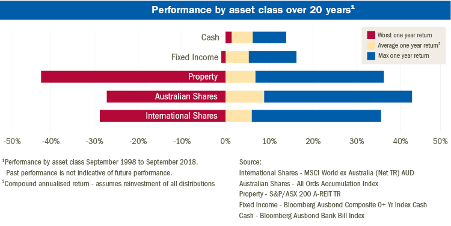 Performance by asset class over 20 years
It is a balancing act. You don't want to play it too safe and miss out on returns, but you also want to be able to sleep at night and be confident with your investment even when there are downturns.
Diversification
Spreading your money across different types of investments rather than relying on the one asset class may help deliver more consistent returns. It can help shelter your investment from a fall in a particular market.
Knowledge and expertise
The more you understand about investments and financial markets, the better you'll become at making decisions that are appropriate for you and your goals.
You can also outsource this knowledge and expertise. A managed fund for example allows you to invest but not do the work. You pay a fee and leave it up to the professionals. This can be a good strategy when you don't have the time or will to research markets and buy and sell assets. You can also talk to a financial adviser.
A Wealth specialist can help guide you. Make an enquiry today.
Sandhurst Trustees Limited disclaimer
Sandhurst Trustees Limited ABN 16 004 030 737 AFSL 237906 (Sandhurst) is a wholly owned subsidiary of Bendigo and Adelaide Bank Limited ABN 11 068 049 178 AFSL 237879. Each of these companies receive remuneration on the issue of the product or service they provide. Sandhurst is the responsible entity and issuer of the managed funds available on this website, and is also the trustee and issuer of the Bendigo superannuation products. Investments in these products are not deposits with, guaranteed by, or liabilities of Bendigo and Adelaide Bank and are subject to normal investment risk, including possible delays in repayment and loss of income and capital invested. Before making an investment decision in relation to one of these products you should consider your situation and read the relevant Product Disclosure Statement available on this site.
Sandhurst is the issuer of the commercial lending products and the provider of any traditional trustee services available on this website. The Bendigo Funeral Bond ("the Bond") is an investment product issued by Australian Friendly Society Limited ("the Society"), ABN 29 087 648 851 AFSL 247028, with benefits provided by the Society's Funeral Benefit Fund established under Schedule 1, Rule E of its constitution and administered by Sandhurst. The Travel Protection Plan is issued by AIA Australia Limited ABN 79 004 837 861 AFSL 230043. The Society is associated with the Bank and its related entities. Neither the Bank nor any of its related entities guarantee the repayment of capital invested or the investment performance of the Bond. Information is correct at the date of this document and is subject to change.
The content on this website has been jointly prepared by Sandhurst and Bendigo and Adelaide Bank and contains general advice only. Advice in relation to superannuation and managed investment schemes is provided by Sandhurst and advice in relation to life risk insurance is provided by Bendigo and Adelaide Bank. It is provided as general information and must not be relied upon as a substitute for financial planning, legal, tax or other professional advice. The information is given in good faith and has been derived from sources believed to be accurate at its issue date. Neither Sandhurst nor the Bendigo and Adelaide Bank give any warranty for the reliability or accuracy or accept any responsibility arising in any way, including by reason of negligence for errors or omissions for the information contained on this website. The information contained on this website is subject to change without notice. Neither Sandhurst nor the Bendigo and Adelaide Bank has an obligation to update, modify or amend this website or notify you in the event that a matter of opinion or projection stated changes or subsequently becomes inaccurate.
Neither Sandhurst nor Bendigo and Adelaide Bank is responsible for the content of any other site accessed via this site. That information is the responsibility of the site owner. Links to other sites are provided for convenience only and do not represent any endorsement by Sandhurst or the Bendigo and Adelaide Bank of the products offered by the site owner.