JEAN-E-Us gets a surprise visit!
22 August 2019
|
Community news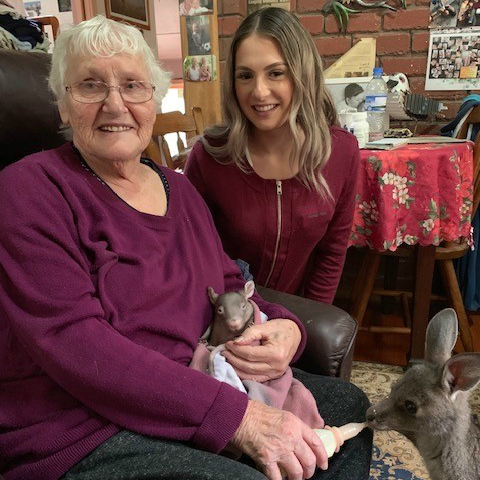 Last Thursday Daina and Sam from Mirboo North & District Community Bank® Branch went to visit Jean from Jean E-Us Boolarra to surprise her with a $400 donation to help with the care of wildlife.
Jean cares for injured and abandoned wildlife in her own home. She doesn't receive any external funding which sometimes makes it hard for her to provide the animals with all they need. Jean and a trusted few volunteers do a mountain of work and will take in any animal needing help. The funds donated to Jean will go towards food and medical expenses for the animals.
This is the second donation made to Jean-E-Us by the Mirboo North & District Community Bank® Branch. Jean was delighted with the surprise visit and all too happy to pose for a photo with two of the animals currently in her care.
In talking to Jean, it became apparent that she was also in dire need of some new Joey pouches (a bag to mimic the mother's pouch) as the old ones were falling apart.
So, our staff used their initiative to contact the Boomerang Bags crew in Mirboo North with the suggestion of sewing up some pouches instead of bags.
The Boomerang Bags team was delighted to take this project on. They meet every Wednesday at the ArtSpace, 10am-12pm, where they make boom bags, joey pouches, ottomans, screen-prints, and anything else that takes their fancy! The fabric for the pouches needs to be a natural material without snags, and stitching needs to be outside the pouch so that joeys' claws don't get caught.
Anybody and everybody are welcome to come along for a very informal, very lovely cuppa, snack and chat.
Jean is very humbled by all the support coming from Mirboo North! The staff at the Community Bank® will be having a collection tin at the Branch to collect some further much needed funds to help Jean care for our injured wildlife.