Possum finishing school helps critically endangered animals prepare for life in the wild
23 September 2019
|
Community news

Possum finishing school helps critically endangered animals prepare for life in the wild
23 September 2019
|
Community news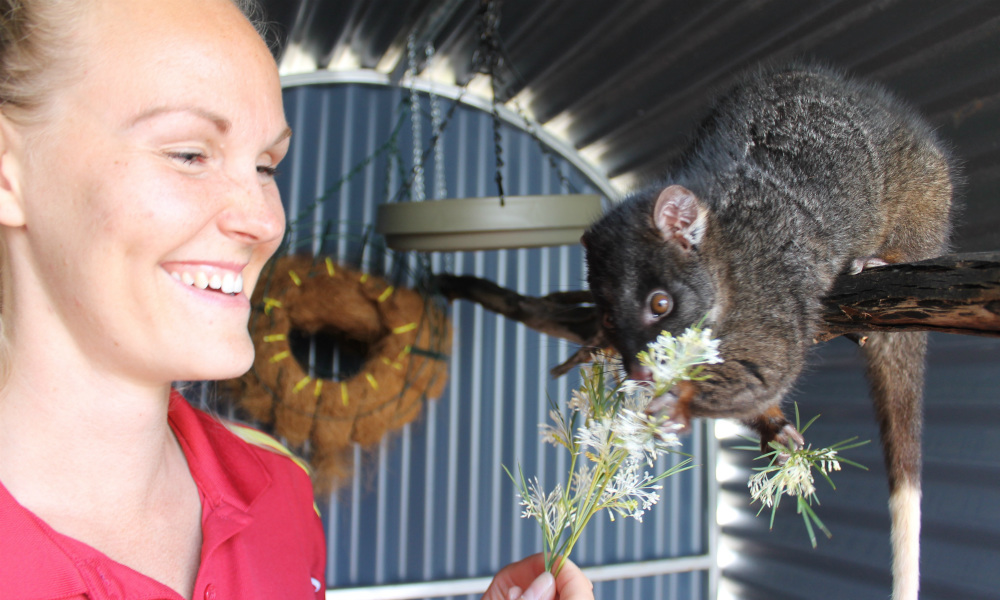 A finishing school for western ringtail possums is not about airs and graces — it's about helping orphaned possums get used to life in the wild.
As many as 200 critically endangered possums end up in the homes of West Australian wildlife carers each year due to loss of habitat or injury.
But environmental group Fostering and Assistance for Wildlife Needing Aid (FAWNA) said little was known about their survival once the animals returned to the wild."
"In the past when we have raised animals for wild release, they have been released in kind of an ad-hoc manner — choosing an area that looks pretty good and letting the animal go. We never knew whether they survived their first night." said FAWNA president Suzanne Strapp.
Twenty possums have moved into a new possum finishing school, north of Busselton, ahead of their release back into the bush.
The school relies on custom built pre-release aviaries to house the possums while they are prepared for release. With minimal funding for this project F.A.W.N.A has had to rely on the generosity of local business and community members to fund the cost of the aviaries.
"All the aviaries are exactly the same, with branches on chains … so that the animals can build up their strength," she said.
"They've all got their own little house which will go into the bush with them which will assist with their survival once released back into the wild."
The team at Busselton & Dunsborough Community Bank® branches jumped at the chance to get behind this project and committed to funding the cost of one of the pre-release aviaries that play a such a vital role in preparing the possums for release back into the wild.
"The work Suzanne and her team at F.A.W.N.A are doing with the Possum Finishing School is extremely important. It will play such a vital role in the continuation of the Western Ringtail population in our local areas." Customer Relationship Manager, Malin Selemark said.
"The passion and enthusiasm the F.A.W.N.A team and the number of volunteers behind the scenes show for this project and the work they do is so inspiring and contagious. Our team are really proud to be a part of the project and doing our part to help make a difference" she said.
To help western ringtails better survive once they are released, researchers from the University of WA are testing the possums at the finishing school, with the study continuing for a three year period.
PhD student Sara Corsetti said the research would determine whether or not there's a link between personality traits and survival.
The possums will be tracked with radio collars once released.