Branch Details
Backed by Australia's fifth biggest retail bank, Tumbarumba Community Bank® Branch not only gives you access to award-winning financial products and services, we're also committed to returning profits to our local communities.
Address:
27 The Parade Tumbarumba NSW 2653
Operating Hours:
Mon-Tue 09:30-17:00, 09:30-17:00
Wed-Fri 09:30-17:00
We're here to support you
Yes, we're open. But where possible use an ATM, e-banking, or the Bendigo Bank app to do your banking. If you'd like to talk with us make an enquiry or call us on the number above.
Get in touch with Tumbarumba Community Bank® Branch about your banking needs today:
To find out how we can help you, visit our branch or call us to make an appointment.
Do good. Do more. And do well.

Find out how Tumbarumba Community Bank® Branch can help you pick the right solutions for your banking needs.
We are committed to supporting local communities
Yes, it's time to feel good about who you bank with.
Our Community Bank® branches give up to 80% of profits back to the community. We aim to develop long-term prosperity by supporting programs that help empower local individuals and groups within the local community.
Investor & Shareholder
Our Community Bank® company is run by local volunteers who are committed to our local community.
Our Board
Chair: Colin Nagle
Directors:
Anthony A'Beckett
Bruce Alleyn
Daniel Martin
Julie Giddings
Martin Sullivan
Lachlan Mackenzie
Malcolm Marshall
Lloyd Mildren
Our Branch Staff
Branch Operations Manager: Merissa Richmond
Business Development Manager: Samantha Machell
Customer Service Officers:
Jane Lane (Senior)
Allena Anderson
Rylee Bramich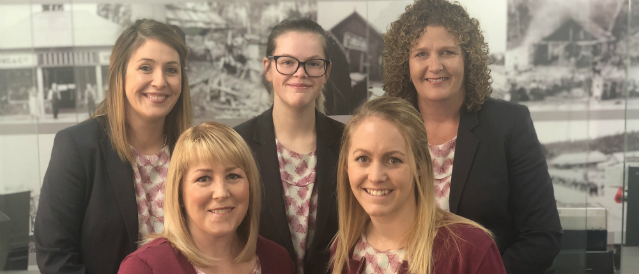 Left to right: Samantha, Allena, Rylee, Jane and Merissa
Tumbarumba Community Bank® Branch is proud to support our customers, our community and our shareholders. View key information for investors and download our financial reports.
Shareholders- Contact Us
Company Details:
Tumbarumba Financial Services Limited
ABN 82 121 010 839
27 The Parade
Tumbarumba NSW 2653

Postal Address:
27 The Parade, Tumbarumba NSW 2653
Secretary Details:
Anthony a'Beckett
27 The Parade
Tumbarumba NSW 2653
Ph: (02) 6948 2696
Share Registry:
RSD Registry
Postal Address:
PO Box 30
Bendigo VIC 3552
Our depositors are protected under the Australian Government's Financial Claims Scheme (FCS) which provides protection and quick access to deposits made with a bank, building society or credit union in the unlikely event that one of these institutions fails. Find out more
here
.
The Bendigo and Adelaide Bank Group is committed to promoting a culture of integrity and ethical behaviour, where our decisions, actions and conduct reflect and reinforce our corporate values.
Our
Group Whistleblower Policy
and individual
Community Bank company Whistleblower Policies
define what type of conduct can be reported. All whistleblower reports made under this policy will be treated seriously and we will investigate them carefully.
Get in touch with [CompanyName] about your needs today.