Branch Details
Community Bank Upwey not only gives you access to award-winning financial products and services, we're also committed to returning profits to our local communities.
Address:
30-32 Main Street Upwey VIC 3158
Operating Hours:
Mon-Fri 09:30-17:00
Sat 09:00-12:00
Services:
ATM (can take deposits, can change PIN)
We're here to support you
Yes, we're open. But where possible use an ATM, e-banking, or the Bendigo Bank app to do your banking. If you'd like to talk with us make an enquiry or call us on the number above.
Get in touch with Community Bank Upwey about your banking needs today:
To find out how we can help you, visit our branch or call us to make an appointment.
Personal
Loans

Accounts

Credit cards

Insurance
Business
Insurance

Finance

Cashflow management

Equipment finance
Wealth
Financial advice

Superannuation

Share trading

Managed funds
Community
Grants

Shareholders

Partnerships
Do good. Do more. And do well.

Find out how Community Bank Upwey can help you pick the right solutions for your banking needs.
$5 million in 20 years
Thanks to the support of our customers, shareholders, staff and company board the Dandenong Ranges Community Bank Group celebrates returning $5 million to the local communities since opening in 1998.
Education Support Scholarships
These scholarships are offered annually to Primary and Secondary schools in our catchment. Schools are contacted in September/October for student nominations. Presentations are held at the end of the school year. Over $46,000 has been distributed to students through this program since 2002.
Our stories
Keep up-to-date with what's happening in our community and visit our Facebook page.
$5 million in 20 years
Dandenong Ranges Community Bank Group has been making a difference to hills communities since 1998.
"This is such a fantastic achievement for a community enterprise that many perceived as a far-off dream 20 years ago, but we have taken this dream for a locally owned and operated bank and turned it into a reality, financially supporting hundreds of community initiatives in the process." - John Waters (Dandenong Ranges Group Chair).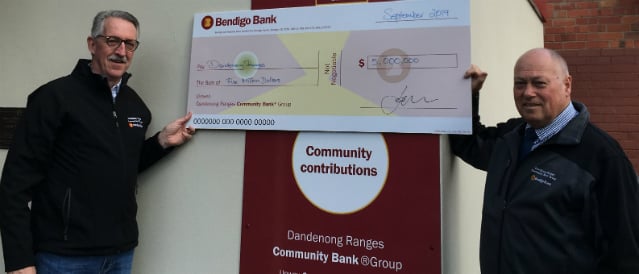 Pictured: John - Chairman and Mike - Senior Group Manager
We're committed to supporting local communities
Yes, it's time to feel good about who you bank with. Our Community Bank branches give up to 80% of profits back to the community. We aim to develop long-term prosperity by supporting programs that help empower local individuals and groups within the local community.
To date, we have invested $5 million to our community, forming part of the national branch network giving back to communities Australia-wide, $229 million and counting.
To find out more about our sponsorship program or to apply please email admin@drcbg.com.au or phone (03) 9754 6540.
Investor & Shareholder
Community Bank Upwey is proud to support our customers, our community and our shareholders. View key information for investors and download our financial reports.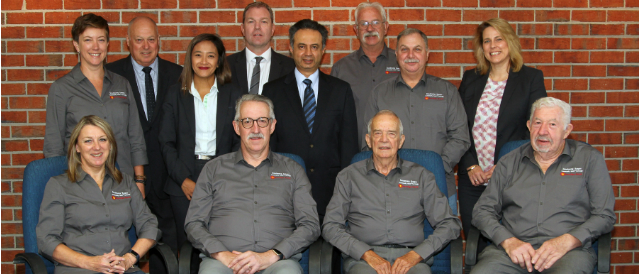 Shareholders- Contact Us
Company Details:
Dandenong Ranges Community Finance Limited
ABN 28 084 480 035
30-32 Main Street
Upwey VIC 3158

Postal Address:
30 Main Street, Upwey VIC 3158
Secretary Details:
Narandra Popat
30-32 Main Street
Upwey VIC 3158
Share Registry:
Dandenong Ranges Community Bank Group
Postal Address:
Our depositors are protected under the Australian Government's Financial Claims Scheme (FCS) which provides protection and quick access to deposits made with a bank, building society or credit union in the unlikely event that one of these institutions fails. Find out more
here
.
The Bendigo and Adelaide Bank Group is committed to promoting a culture of integrity and ethical behaviour, where our decisions, actions and conduct reflect and reinforce our corporate values.
Our
Group Whistleblower Policy
and individual
Community Bank company Whistleblower Policies
define what type of conduct can be reported. All whistleblower reports made under this policy will be treated seriously and we will investigate them carefully.
Get in touch with [CompanyName] about your needs today.