Branch Details
Community Bank Pomona not only gives you access to award-winning financial products and services, we're also committed to returning profits to our local communities.
Address:
3/3 Station Street Pomona QLD 4568
Operating Hours:
Mon,Wed,Fri 10:00-16:00
Branch manager:
Samantha Atholwood
We're here to support you
Yes, we're open. But where possible use an ATM, e-banking, or the Bendigo Bank app to do your banking. If you'd like to talk with us make an enquiry or call us on the number above.
Get in touch with Community Bank Pomona about your banking needs today:
To find out how we can help you, visit our branch or call us to make an appointment.
Personal
Loans

Accounts

Credit cards

Insurance
Business
Insurance

Finance

Cashflow management

Equipment finance
Wealth
Financial advice

Superannuation

Share trading

Managed funds
Community
Grants

Shareholders

Partnerships
Do good. Do more. And do well.

Find out how Community Bank Pomona can help you pick the right solutions for your banking needs.
We're committed to supporting local communities
Yes, it's time to feel good about who you bank with.
Our Community Bank branches give up to 80% of profits back to the community. We aim to develop long-term prosperity by supporting programs that help empower local individuals and groups within the local community.
Here are some of our local success stories.
Pomona State School leaders showing the way.
Famed author and speaker, John C. Maxwell once said: A leader is one who knows the way, goes the way and shows the way. Even at a young age, it's important to recognise this in our future leaders.
Keen to share their select group with our community, Pomona State School has unveiled their leadership group for 2020 at an assembly this week. It's a fine collection of eight, Year 6 students who are already putting their best efforts forward at the historic school.
To celebrate their induction Jo Winter from Pomona Community Bank Branch was on-hand to present the students with the leader badges and wish them well. As a long time and valued sponsor of the school, Jo celebrated the special occasion with Cameron, Tayla, Piper, Harry, Rylan and Lachlan, along with the two school captains, Luc and Naomi.
School principal, Alyson said the team of leaders are ready for the year ahead.
"Our leaders will work throughout the year on various projects revolving around school improvement and making our school a great place for kids, as well as endeavours to support charities within our hinterland community. We're fortunate to have sponsorship from our local Pomona Community Bank Branch of Bendigo Bank for some of those projects.
"Mrs. Harch and I are very proud of this group of enthusiastic young people who are embracing their opportunity of leadership at Pomona State School. It's going to be a great year ahead," Mrs. Covey concluded.
Take a seat and cheer on the Wombats!
As we're all very aware, sporting calendars have been turned upside down in recent weeks, but in welcome news for Cooroora United Football Club a long-time sponsor delivered on a promise that will transform how local fans watch the game.
The Cooroy and Pomona Community Bank branches of Bendigo Bank has added to the decade long list of projects it has supported the club with by helping purchase two mobile grandstands to seat the club faithful at home games.
Club president, Tony McCarthy said the structures are a brilliant asset for CUFC.
"This is the latest sign of our club's increasing strength and commitment to improving facilities for our loyal members and visitors alike," Tony shared.
"These two little beauties are another small representation of an evolving, long-term plan for the Wombats and our place within the Hinterland community. We simply couldn't have done this without Bendigo Bank's superb support and we're delighted at the backing they continue to show our club. They'll allow a place to sit, relax and enjoy some football in a family friendly environment," he said.
The glue that holds the club together is the work of so many great volunteers who assist the hard-working committee in getting many teams out there enjoying their football. The hope is the season can start soon after Easter and all the training can turn into some game time.

Joining some of the teams before training last week was Cooroy and Pomona Community Bank branch manager, Simone Flavelle. She said Bendigo Bank is delighted to be supporting the club for the 2020 season.
"We've been proud sponsors for many years - from helping purchase club strips to the free Cooroora United app, and now these great new grandstands. We're here to support those who support us by choosing to bank with us. It's something we all love being part of," Simone said.
"The club is filled with so many great locals and you can feel the family atmosphere every time you come here. We wish all the teams a great season once the green light is given for the games to be played. Go the Wombats!" she concluded.
Anyone looking to become involved with Cooroora United can do so by contacting the club through any of the numbers on its website.
RYDA is a driving force behind our local students.
The impact of road trauma remains all-to-real in our community.
The combined Rotary Clubs of Noosa, Noosa Heads, Noosa Daybreak and Cooroy joined forces again this week, assisting in taking 220 Noosa District State High and 27 Noosa Pengari Steiner School students through the RYDA (Rotary Youth Driver Awareness) Program at The House with No Steps at Fellowship Drive, Doonan.
The program sees Year 10 and 11 students taking one day out of school, to receive practical road safety information targeting attitude and awareness of young drivers and their passengers.
The Cooroy Community Bank Branch of Bendigo Bank stepped up again in partnership with its Tewantin Noosa and Pomona branches in collective support of RYDA committing a further $2,000 to the program in 2019/20. This financial backing assists Rotary purchasing the latest equipment that guarantees attention grabbing presentations.
"This program provides some of the most important lessons students can have in their senior schooling years. Our Community Bank branches continue to believe in RYDA, and our Bendigo Bank branches in Noosa are particularly proud to provide this sponsorship. It also provides us with another opportunity to partner with Rotary and highlight the great work they do in our community," - Simone (Cooroy and Pomona Branch Manager).
A moment in time for Bendigo Bank Street Parade.
Christmas in Cooroy is celebrating 15 years on Saturday, December 7 and to mark the momentous occasion, the theme for this year's Bendigo Bank Street Parade is "A Moment in Time". Spectators will once again line Maple Street for the beloved parade, and you can expect there will be some interesting floats from local community groups and businesses this year.
With the Moment in Time theme, we will likely see some flash backs to significant periods from the past like the Roaring 20s, the Roman Empire or even the moon landing. One thing is for certain, there will be lollies, laughs and fun for all to share.
Christmas in Cooroy is one of the most anticipated events of the festive season. With free rides, entertainment, fun activities and even an appearance from the jolly man in red, it is truly no wonder that crowds flock to enjoy this incredible festival.
If you are interested in participating in the parade or any of the other activities and competitions visit the Christmas in Cooroy site for more information!
Christmas in Cooroy is run by the Cooroy Chamber of Commerce with the support of the Rotary Club of Cooroy and funding from fantastic local business sponsors including Noosa Council, Cooroy Community Bank Branch of Bendigo Bank and many others.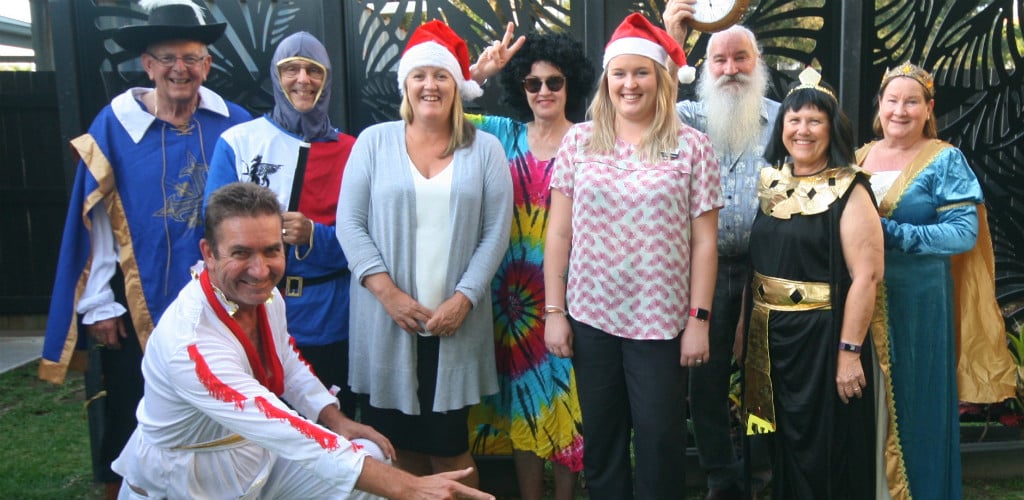 A committee hard at work. Some of the Christmas in Cooroy committee trying out "A Moment in Time" costumes with Simone and Sheridan from Bendigo Bank.
Pomona turns two.
While other banks continue to close down their branches in regional Australia, Pomona has celebrated turning two, strengthening it's commitment to the town. Hundreds of cupcakes created by Pomona Bakery were personally handed out to local businesses by branch staff and board members to celebrate the milestone.
To add to the excitement, the team took the opportunity to announce the branch is now open from 10.00am-4.00pm every Monday, Wednesday and Friday.
"Bendigo Bank's commitment to Noosa through its Cooroy, Pomona and Tewantin Noosa Community Bank branches has already seen more than $1.1 million given back to our communities, and we're just getting started." - Simone (Cooroy and Pomona Branch Manager).
Tall Trees Art Exhibition a triumph.
The annual Tall Trees Art Exhibition saw venues on King Street, Cooran celebrating art - inside and out. President of Tall Trees Art Inc., Mia said the generosity of venue hosts, open studios, sponsors, volunteers and artists across various arts platforms was something the hinterland village can be proud of.
The Tall Trees Art Exhibition is a pure grassroots art exhibition that showcased paintings and drawings, handmade paper and hanging installations, digital lighting and sound exploration, light morphing and photography.
"The talent and the passion all the artists showcased was fantastic. It was a real pleasure to be there to talk with many of them firsthand. We're proud our Pomona branch played its part in giving back to the hinterland customers who continue to support us with their banking." - Simone (Cooroy and Pomona Branch Manager).
Pomona Bowls Club crown their kings.
The annual King of the Mountain Men's Invitation Fours competition saw excellent weather with the bowling green in top condition. Sixty-four bowlers from Brisbane to Hervey Bay took to the green early Saturday morning seeing Mark, Darren, Geoff and Lew undefeated with six wins giving them first prize.
As the winners celebrated, the King of the Mountain gold medallions were presented by Jo from the Pomona Community Bank Branch of Bendigo Bank - one of the club's longest and most valued sponsors.
"It's precisely what our branch is about. Banking profits going back into our community just by locals choosing to bank with us – just like Pomona Bowls Club. The more support locals continue show us, the more we can sponsor events that are important to Pomona." - Jo (CRM, Pomona Community Bank Branch).
Hundreds saddled up for Pomona gymkhana.
More than 100 riders attended Pomona Pony Club's annual gymkhana held on 5 August 2019.
Competitors from up and down the coast took part in record number as Pomona Pony Club's reputation continues to grow as one of the largest and well-run gymkhanas within its zone.
"We're very grateful for our generous sponsors who helped make this day a special event, especially for our children. There are endless opportunities for our Pony Club with the support of our local businesses and community and the Pomona Community Bank Branch of Bendigo Bank have backed us again this year. We're delighted with the support they give us and so many other clubs in town - it's really great to have our own bank and to see the part they play in supporting events and clubs in the hinterland." - Cathy (Gymkhana Coordinator, Pomona Pony Club).
Our Community Bank company is run by local volunteers who are committed to our local community.
Our Board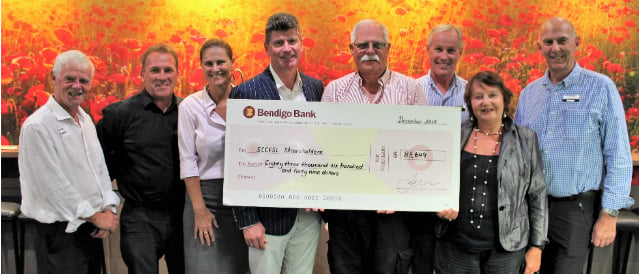 From left to right: David Green, Jay Pashley, Trish Radge, Toby Bicknell, Tony Freeman, Guy Hamilton, Elizabeth Reynolds, Rick Cooper
Our Branch Staff
Senior Branch Manager: Simone Flavelle
Customer Relationship Manager: Karl Doss
Customer Relationship Officer: Jo Winter
Customer Relationship Officers:
Amanda Schilds
Ella Dawes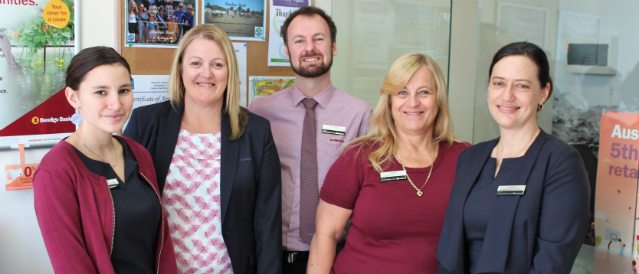 From left to right: Ella, Simone, Karl, Jo, Amanda
Community Bank Pomona is proud to support our customers, our community and our shareholders. View key information for investors and download our financial reports.
Shareholders- Contact Us
Company Details:
Sunshine Coast Community Financial Services Limited
ABN 12 100 576 261
36A Maple Street
Cooroy QLD 4563

Postal Address:
36A Maple Street, Cooroy QLD 4563
Secretary Details:
Patricia Radge
36A Maple Street
Cooroy QLD 4563
Share Registry:
RSD Registry
Postal Address:
PO Box 30
Bendigo VIC 3552
Our depositors are protected under the Australian Government's Financial Claims Scheme (FCS) which provides protection and quick access to deposits made with a bank, building society or credit union in the unlikely event that one of these institutions fails. Find out more
here
.
The Bendigo and Adelaide Bank Group is committed to promoting a culture of integrity and ethical behaviour, where our decisions, actions and conduct reflect and reinforce our corporate values.
Our
Group Whistleblower Policy
and individual
Community Bank company Whistleblower Policies
define what type of conduct can be reported. All whistleblower reports made under this policy will be treated seriously and we will investigate them carefully.
Get in touch with [CompanyName] about your needs today.