Branch Details
Backed by Australia's fifth biggest retail bank, Cooroy Community Bank® Branch not only gives you access to award-winning financial products and services, we're also committed to returning profits to our local communities.
Address:
36A Maple Street Cooroy QLD 4563
Operating Hours:
Mon-Fri 09:00-17:00
Branch manager:
Simone Flavelle
Get in touch with Cooroy Community Bank® Branch about your banking needs today:
To find out how we can help you, visit our branch or call us to make an appointment.
Do good. Do more. And do well.

Find out how Cooroy Community Bank® Branch can help you pick the right solutions for your banking needs.
We're committed to supporting local communities.
Yes, it's time to feel good about who you bank with.
Our Community Bank branches give up to 80% of profits back to the community. We aim to develop long-term prosperity by supporting programs that help empower local individuals and groups within the local community.
Here are some of our local success stories.
Noosa Chorale set to hit high note this Christmas
As we move ever closer to Christmas, one talented group of vocalists has become synonymous with the way we choose to greet the Festive Season in Noosa.
Noosa Chorale's 'Wassail' is on again for the 12th fun-filled year at The J with concerts on Friday 13 December and Saturday 14 December at 7.00pm. Music director, Adrian King has planned a programme of timeless carols and popular Christmas songs to delight and enthral audience members.
This year the theme is Love, and for two hours (with intermissions) it will be time to eat, drink and be merry in a cabaret style setting of goodwill with drinks, mince pies and cheese platters. The community choir now boasts over 100 members, who tirelessly rehearse each week to bring a rich repertoire of great choral works to local audiences.
The Tewantin Noosa Community Bank Branch of Bendigo Bank has supported Noosa Chorale for a number of those years, and Noosa Chorale's Jim Fagan was excited to collect a cheque for $1,500 earlier this week and practice a few carols with branch manager, Linda Oliver.
"Like many amazing individuals living in our Noosa community, Noosa Chorale is filled with special people who give up their time and talents to give the gift of music to others. There's no better time than Christmas to do just that," Mr. Fagan said.
"We're delighted to be sponsored by a bank that is giving back to its community and these funds not only will help put on our Christmas Cheer concerts, but assist with other quality performances with professional orchestras and soloists this Christmas and into 2020," he added.
Linda Oliver couldn't agree more.
"Noosa Chorale has presented the most incredible concerts this year - standing ovations included! We hope the funds attached to this sponsorship will go a long way to helping Noosa Chorale present a program of similar quality this Christmas, and I have no doubt they will," Mrs. Oliver shared.
Ticket prices for Wassail are $39 for an adult and $35 for group bookings for tables of 8. Under 16 guests will pay $25. These concerts do sell out, so to avoid disappointment go to The J website to book your seat and a whole lot of festive fun.
RYDA is a driving force behind our local students.
The impact of road trauma remains all-to-real in our community.
The combined Rotary Clubs of Noosa, Noosa Heads, Noosa Daybreak and Cooroy joined forces again this week, assisting in taking 220 Noosa District State High and 27 Noosa Pengari Steiner School students through the RYDA (Rotary Youth Driver Awareness) Program at The House with No Steps at Fellowship Drive, Doonan.
The program sees Year 10 and 11 students taking one day out of school, to receive practical road safety information targeting attitude and awareness of young drivers and their passengers.
The Cooroy Community Bank Branch of Bendigo Bank stepped up again in partnership with its Tewantin Noosa and Pomona branches in collective support of RYDA committing a further $2,000 to the program in 2019/20. This financial backing assists Rotary purchasing the latest equipment that guarantees attention grabbing presentations.
"This program provides some of the most important lessons students can have in their senior schooling years. Our Community Bank branches continue to believe in RYDA, and our Bendigo Bank branches in Noosa are particularly proud to provide this sponsorship. It also provides us with another opportunity to partner with Rotary and highlight the great work they do in our community," - Simone (Cooroy and Pomona Branch Manager).
A moment in time for Bendigo Bank Street Parade.
Christmas in Cooroy is celebrating 15 years on Saturday, December 7 and to mark the momentous occasion, the theme for this year's Bendigo Bank Street Parade is "A Moment in Time". Spectators will once again line Maple Street for the beloved parade, and you can expect there will be some interesting floats from local community groups and businesses this year.
With the Moment in Time theme, we will likely see some flash backs to significant periods from the past like the Roaring 20s, the Roman Empire or even the moon landing. One thing is for certain, there will be lollies, laughs and fun for all to share.
Christmas in Cooroy is one of the most anticipated events of the festive season. With free rides, entertainment, fun activities and even an appearance from the jolly man in red, it is truly no wonder that crowds flock to enjoy this incredible festival.
If you are interested in participating in the parade or any of the other activities and competitions visit the Christmas in Cooroy site for more information!
Christmas in Cooroy is run by the Cooroy Chamber of Commerce with the support of the Rotary Club of Cooroy and funding from fantastic local business sponsors including Noosa Council, Cooroy Community Bank Branch of Bendigo Bank and many others.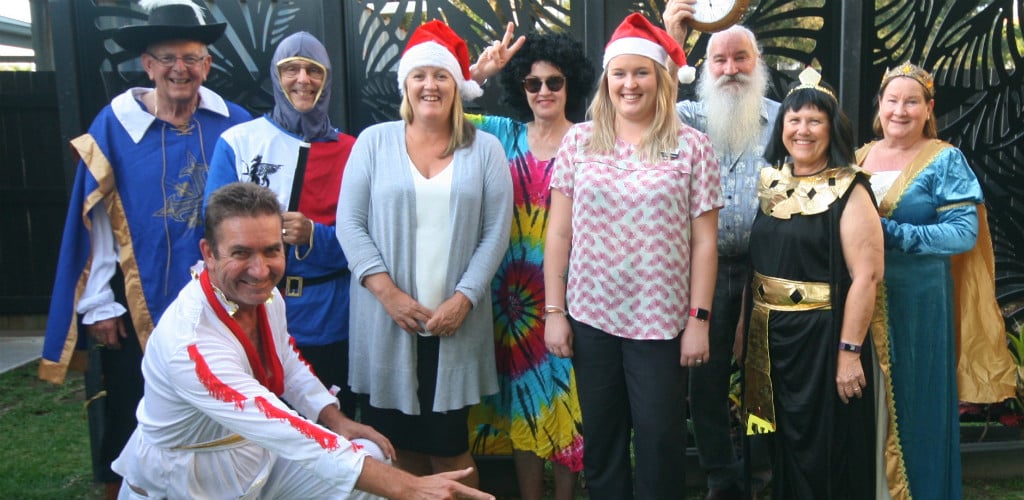 A committee hard at work. Some of the Christmas in Cooroy committee trying out "A Moment in Time" costumes with Simone and Sheridan from Bendigo Bank.
Cooroora is a club united.
Cooroora United Football Club (CUFC) is relishing in some good news announcing the purchase of a new grandstand for 2020 made possible through another sponsorship from Bendigo Bank.
"To be able to realise the dream of having a grandstand where our supporters can cheer our teams on a little closer to the action is just fantastic," - Tony (CUFC President).
New shade sail has Cooroy Kindy kids excited.
Over the years our branch has worked with the kindy on small improvement projects designed to make time there even more enjoyable for the kids. From a new playground to a new recycling system, a compost tumbler and frog pond, the sponsored projects have helped the children discover how to support our environment.
This week, there was a celebration to mark the latest addition to the outdoor play space - a shade sail hangs over the much-loved swing area in the playground. Diana is director of Cooroy Community Kindergarten and she said the playground equipment would previously become too hot for the children to use, being exposed to the direct sun.
"This has made such a difference for our children," - Diana (Cooroy Community Kindergarten Director).
Noosa QLD Day Awards highlight all that's great about our community.
Where would we be without our volunteer workforce?
On 6 June 2019, we celebrated Queensland Day right across this great state. In Noosa, a deserving bunch of volunteers were honoured at the Noosa Electorate Queensland Day Awards at The J.
A total of 42 people, from a broad range of community and business sectors including community associations, professional services, sporting clubs, regional events and local initiatives, received a Queensland Day medallion and certificate of appreciation.
Since it's inception four years ago we have been one of the main sponsors of the Noosa QLD Day Awards.
"Our point of difference is our connection with our community and many of them were represented at the awards again this year," - Simone (Cooroy and Pomona Branch Manager).
Cooroy Community Bank Branch welcomes dynamic duo.
You may be getting used to their faces, we have welcomed two new staff members in recent weeks - Cindy and Ella - who are loving their time in the Hinterland!
Cindy grew up in Bendigo and started working for Bendigo Bank in 2009. Based in Head Office, she spent time in the Card and Merchant Operations team until late 2014, then moving to the Mortgage Help Centre.
After talking about moving to Queensland for many years, Cindy decided it was time to take the plunge and follow her dreams. Ready for a new challenge, Cindy is loving this new chapter of her life in Cooroy.
Ella graduated from high school last year having grown up on the coast. It's a great opportunity to get to know more of what makes the hinterland so special.
She's already investing a lot of spare time at events and community meeting and taking in as much as she can, settling into a job that's already feeling like it was made for her.
"While many of our competitors are closing bank branches and moving out or reducing their staff, we're committed here long-term." - Simone (Cooroy and Pomona Branch Manager).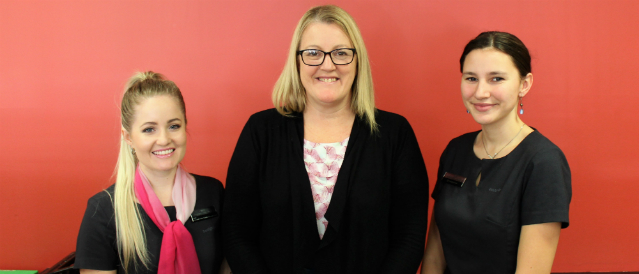 Left to right: Cindy, Simone and Ella
Ty, Jesaiah and Josh are loving boardroom life.
In business, some have a dream of sitting on a board of directors one day.
Well, that opportunity has arrived a few decades early for three Noosa District State High School (NDSHS) Year 12 students and they're pretty excited.
Ty, Jesaiah and Josh all have a keen interest in business. Earlier this year, they were appointed as Junior Observer Directors for 2019 on a board that manages one of the only few publically listed companies on the Sunshine Coast.

"It's a great head start to learn how a board works and also to learn more about the important part the Community Bank branches play in Noosa and the North Shore's future. It's just amazing how much time and money the branches have invested in our communities already for all our benefit." - Ty (Year 12 student NDSHS).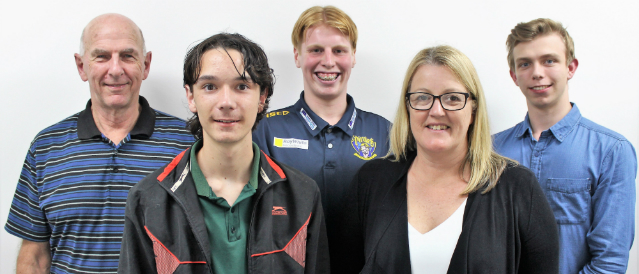 Left to right: Rick (Chair SCCFSL), Josh, Jesaiah, Simone (Branch Manager) and Ty
Mountain conquerors crowned for 2019.
Thousands turned out to watch a field of 100 runners take on Mt. Cooroora at the Pomona King of the Mountain Festival on 28 July 2019.
We are long-time major sponsor of the event and many of the staff from the Pomona and Cooroy Community Bank branches were on hand to make sure every finisher had a soft landing after crossing the line. They worked with the Cooroy Pomona Lions team of volunteers providing bottles of water to the athletes after their torturing run.
"Working with the Cooroy Pomona Lions volunteers to keep this historic race staged each year is just wonderful" - Simone (Cooroy and Pomona Branch Manager).
Our Community Bank® company is run by local volunteers who are committed to our local community.
Our Board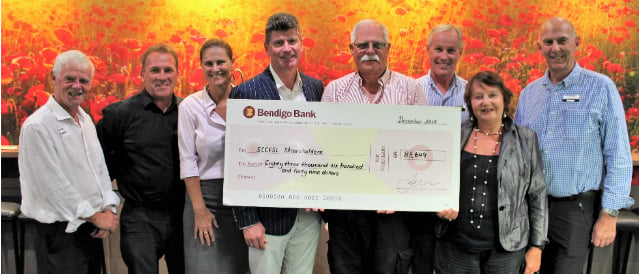 From left to right: David Green, Jay Pashley, Trish Radge, Toby Bicknell, Tony Freeman, Guy Hamilton, Elizabeth Reynolds, Rick Cooper
Our Branch Staff
Senior Branch Manager: Simone Flavelle
Customer Relationship Managers:
Debbie
Karl
Customer Relationship Officers:
Jo
Sheridan
Customer Service Officers:
Amanda
Meredith
Ella
Cindy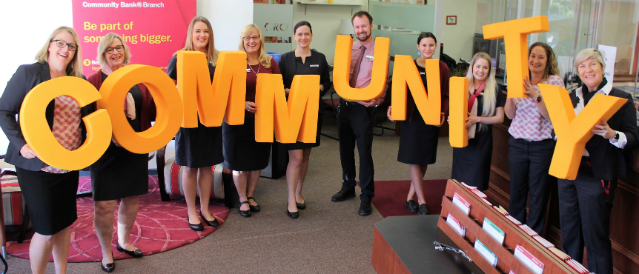 From left to right: Simone, Debbie, Sheridan, Jo, Amanda, Karl, Ella, Cindy, Meredith, Liz
Cooroy Community Bank® Branch is proud to support our customers, our community and our shareholders. View key information for investors and download our financial reports.
Shareholders- Contact Us
Company Details:
Sunshine Coast Community Financial Services Limited
ABN 12 100 576 261
36A Maple Street
Cooroy QLD 4563

Postal Address:
36A Maple Street, Cooroy QLD 4563
Secretary Details:
Patricia Radge
36A Maple Street
Cooroy QLD 4563
Share Registry:
RSD Registry
Postal Address:
PO Box 30
Bendigo VIC 3552
Our depositors are protected under the Australian Government's Financial Claims Scheme (FCS) which provides protection and quick access to deposits made with a bank, building society or credit union in the unlikely event that one of these institutions fails. Find out more
here
.
The Bendigo and Adelaide Bank Group is committed to promoting a culture of integrity and ethical behaviour, where our decisions, actions and conduct reflect and reinforce our corporate values.
Our
Group Whistleblower Policy
and individual
Community Bank company Whistleblower Policies
define what type of conduct can be reported. All whistleblower reports made under this policy will be treated seriously and we will investigate them carefully.
Get in touch with [CompanyName] about your needs today.