Branch Details
Backed by Australia's fifth biggest retail bank, Tewantin Noosa Community Bank® Branch not only gives you access to award-winning financial products and services, we're also committed to returning profits to our local communities.
Address:
114 Poinciana Avenue Tewantin QLD 4565
Operating Hours:
Mon-Fri 09:00-17:00
Branch manager:
Linda Oliver
Get in touch with Tewantin Noosa Community Bank® Branch about your banking needs today:
To find out how we can help you, visit our branch or call us to make an appointment.
Do good. Do more. And do well.

Find out how Tewantin Noosa Community Bank® Branch can help you pick the right solutions for your banking needs.
We're committed to supporting local communities
Yes, it's time to feel good about who you bank with.
Our Community Bank branches give up to 80% of profits back to the community. We aim to develop long-term prosperity by supporting programs that help empower local individuals and groups within the local community.
Noosa celebrating what's great on Australia Day
Tewantin Noosa Lions Park was the place to be on January 26 as hundreds celebrated in Aussie style.
We're proud to have supported the community get-together for 2020. The music, food stalls and activities were fantastic!
Thanks for all your hard work and vision with this amazing event, Tewantin Noosa Lions and to our Rotary clubs for the Big Brekky that filled so many tummies!
It's because our customers choose to bank with us that we're able to continue to support great community celebrations like this.
Come and see how your banking at Tewantin Noosa Community Bank branch of Bendigo Bank will make a difference to where we live.
Noosa's finest young debaters are crowned
As the school year begins to wind down, some great young minds from our local state schools have been hard at work. Those in the 'affirmative' took on those in the 'negative' in the annual Noosa District Inter-school Debating competition held last week.
Students representing Cooroy, Cooran, Tewantin and Noosaville State Schools participated in a competition where round robin debates occurred on various subjects such as that school children should wear uniforms.
Held annually since 2012, the tournament has proven to be a real hit, with students from Years 4-6 finding a fun way to inspire debating with a little competitiveness between the schools. The skills and passion were on display during the finals held at Noosaville State School last Wednesday. For the record, Noosaville's Year 4 blue team, Tewantin's Year 5 team and Noosaville's Year 6 blue team were crowned champions for 2019.
Tournament co-ordinator and Noosaville State School teacher, Sue said the Noosa District Debating Cup was a great success and is now a sought-after title between the four schools and feels it will grow from strength to strength each year it's held.
"The kids have really embraced the annual Debaters' Cup and we thank Bendigo Bank for their ongoing financial support of this event. Because of it, we're able to purchase medallions and present the trophies for the junior and senior team winners. Each student who takes part also receives a certificate of participation. The standard of competition was high again in 2019 and we all had a lot of fun," Sue said.
"The students and have worked really hard under the guidance of their coaches and adjudicators. We sincerely thank Rick (Tewantin State School), Kathy (Cooran State School) and Hilary (Cooroy State School) for their assistance over the past few weeks.
"Debating is a great skill for the kids to have as they get older and we certainly have a few budding experts on our hands. At the end of the day the tournaments' success is measured by the enjoyment of the students taking part," she added.
Tewantin Noosa Community Bank Branch's, Linda Oliver said the bank is delighted about its continued involvement in sponsoring tournaments that develop students' learning and sportsmanship.
''We're really proud to sponsor this competition and this is just an extension of the great relationship between our Bendigo Bank Community Bank branches in Noosa and all the schools represented. Our branches in Tewantin, Cooroy and Pomona look forward to offering our support for the Noosa District Debating Cup in 2020," Linda said.
Our Community Bank® company is run by local volunteers who are committed to our local community.
Our Board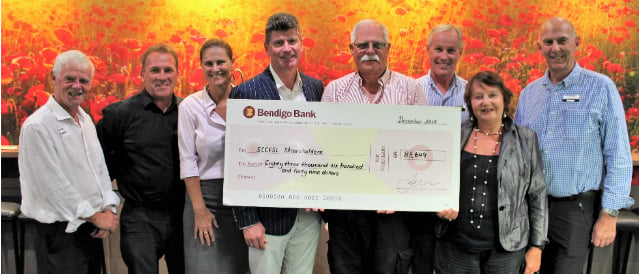 From left to right: David Green, Jay Pashley, Trish Radge, Toby Bicknell, Tony Freeman, Guy Hamilton, Elizabeth Reynolds, Rick Cooper
Our Branch Staff
Branch Manager: Linda Oliver
Personal Bankers:
Kerri
Amy
Loans Manager:
Lisa
Engagement Officers:
Alison
Kristin
Jack
Maria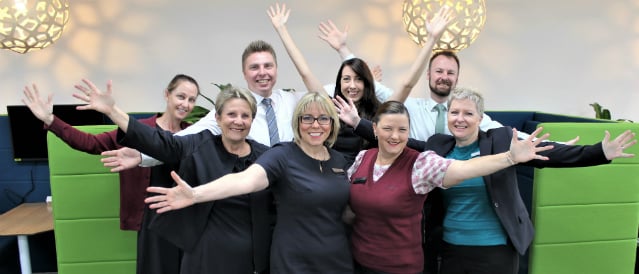 From left to right: Amy, Kerri, Jack, Linda, Kristin, Lisa, Karl, Alison
Tewantin Noosa Community Bank® Branch is proud to support our customers, our community and our shareholders. View key information for investors and download our financial reports.
Shareholders- Contact Us
Company Details:
Sunshine Coast Community Financial Services Limited
ABN 12 100 576 261
36A Maple Street
Cooroy QLD 4563

Postal Address:
36A Maple Street, Cooroy QLD 4563
Secretary Details:
Patricia Radge
36A Maple Street
Cooroy QLD 4563
Share Registry:
RSD Registry
Postal Address:
PO Box 30
Bendigo VIC 3552
Our depositors are protected under the Australian Government's Financial Claims Scheme (FCS) which provides protection and quick access to deposits made with a bank, building society or credit union in the unlikely event that one of these institutions fails. Find out more
here
.
The Bendigo and Adelaide Bank Group is committed to promoting a culture of integrity and ethical behaviour, where our decisions, actions and conduct reflect and reinforce our corporate values.
Our
Group Whistleblower Policy
and individual
Community Bank company Whistleblower Policies
define what type of conduct can be reported. All whistleblower reports made under this policy will be treated seriously and we will investigate them carefully.
Get in touch with [CompanyName] about your needs today.