Branch Details
Community Bank Marcoola not only gives you access to award-winning financial products and services, we're also committed to returning profits to our local communities.
Address:
1/930 David Low Way Marcoola QLD 4564
Operating Hours:
Mon-Thu 09:30-16:00
Fri 09:30-16:30
We're here to support you
Yes, we're open. But where possible use an ATM, e-banking, or the Bendigo Bank app to do your banking. If you'd like to talk with us make an enquiry or call us on the number above.
Get in touch with Community Bank Marcoola about your banking needs today:
To find out how we can help you, visit our branch or call us to make an appointment.
Personal
Loans

Accounts

Credit cards

Insurance
Business
Insurance

Finance

Cashflow management

Equipment finance
Wealth
Financial advice

Superannuation

Share trading

Managed funds
Community
Grants

Shareholders

Partnerships
Do good. Do more. And do well.

Find out how Community Bank Marcoola can help you pick the right solutions for your banking needs.
We're committed to supporting local communities
Yes, it's time to feel good about who you bank with.
Our Community Bank branches give up to 80% of profits back to the community. We aim to develop long-term prosperity by supporting programs that help empower local individuals and groups within the local community.
Marcoola rocked Australia Day
Marcoola Surf Club was the place to be on our national day as hundreds made their way to the beach to celebrate in Aussie style.
Marcoola Rocks took place as families got the sand between their toes and the beat in their feet on one of the coast's most picturesque beaches. From 1.00-9.00pm, music was made on the dunes in front of the clubhouse with the food stalls and activities keeping many entertained to the end.
From small beginnings in 2009, Marcoola Rocks has become synonymous with Australia Day celebrations and just keeps getting better. Just as they have been since the first event, the Marcoola Community Bank branch of Bendigo Bank sponsored the day.
Surf club president Di Lengui, said the club is deeply grateful for the sponsorship from its local Community Bank and says Marcoola Rocks is event for the whole town.
"It was a great day and our team of volunteers were amazing. So many locals decided to make their surf club the place to celebrate and we're very grateful to all the club members and sponsors who made it all happen. Marcoola Community Bank has been with us since day one with this event and we're just thrilled they continue to support what we've created here," she said.
All proceeds from the event this year will go towards the further development of the youth program and the purchase of additional surf lifesaving gear and equipment within the club.
"All the bands and entertainment were free of charge and we drew a great crowd. It's Marcoola's biggest local celebration for the year many took the opportunity to come and enjoy the day and swim at our fully patrolled beach," Ms Lengui added.
Marcoola Community Bank branch's Mark Gielis said he and the Bendigo Bank team got right into it.
"Like everybody else, we loved taking in the great local music and enjoying all that's great about being an Aussie. Marcoola SLSC did such an amazing job putting this celebration together and changing things a little bit each year to it looking and feeling fresh. It's an event we love to support and we'll be there again in 2021," Mark said.
For more information about Marcoola SLSC, go to marcoolasurfclub.com.au
Our Community Bank company is run by local volunteers who are committed to our local community.
Our Board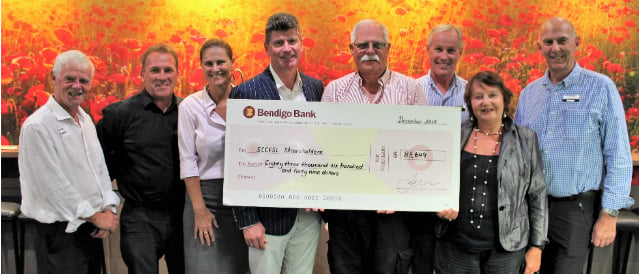 From left to right: David Green, Jay Pashley, Trish Radge, Toby Bicknell, Tony Freeman, Guy Hamilton, Elizabeth Reynolds, Rick Cooper
Our Branch Staff
Branch Manager: Kerryn Vincart
Customer Relationship Managers:
Mark
Karl

Customer Relationship Officers:
Stephen
Donna
Bronwyn
Maria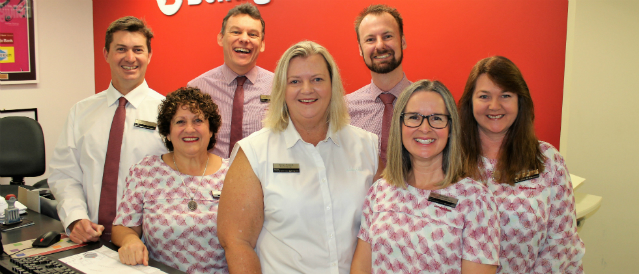 From left to right: Mark, Maria, Stephen, Kerryn, Karl, Bronwyn, Donna
Community Bank Marcoola is proud to support our customers, our community and our shareholders. View key information for investors and download our financial reports.
Shareholders- Contact Us
Company Details:
Sunshine Coast Community Financial Services Limited
ABN 12 100 576 261
36A Maple Street
Cooroy QLD 4563

Postal Address:
36A Maple Street, Cooroy QLD 4563
Secretary Details:
Patricia Radge
36A Maple Street
Cooroy QLD 4563
Share Registry:
RSD Registry
Postal Address:
PO Box 30
Bendigo VIC 3552
Our depositors are protected under the Australian Government's Financial Claims Scheme (FCS) which provides protection and quick access to deposits made with a bank, building society or credit union in the unlikely event that one of these institutions fails. Find out more
here
.
The Bendigo and Adelaide Bank Group is committed to promoting a culture of integrity and ethical behaviour, where our decisions, actions and conduct reflect and reinforce our corporate values.
Our
Group Whistleblower Policy
and individual
Community Bank company Whistleblower Policies
define what type of conduct can be reported. All whistleblower reports made under this policy will be treated seriously and we will investigate them carefully.
Get in touch with [CompanyName] about your needs today.